Biography
1985
Matriculated from Paarl Gymnasium.
1988
Graduated from the University of Stellenbosch with a BA in Drama.
1989
Joined Pact Performing Arts Council as an actress. We toured with various productions of prescribed works, performing at various high schools and primary schools.
1990
Joined a touring anti-drug school show as an actress.
1990
Joined Executive Shows as an erotic dancer. Danced with them for 15 years.
1997
Married Egmont Sippel, a motoring Journalist for the Rapport newspaper.
1997
Won Penthouse Pet of the Year.
2000
Started working with Deon Opperman. Deon wrote the stage production Nipple Caps and G-Strings. The show was performed across the country. It is a show about marriage and why so many married men go to strip clubs. We spoke about a topic that had been taboo for women for such a long time. We took women into the heart of a strip club. Nipple Caps and G-Strings was a runaway success. Today we have so many couples that visit the Lollipop Lounge together and that realize that it is ok to play and to fantasise and that the dancers in the strip clubs are not there to take their husbands but to take their husband's money.
2004
Opened the Lollipop Lounge in Randburg. An upmarket lap dancing venue. The club celebrates its 15th birthday in 2019. Lollipop Lounge is a landmark in Randburg. Here our dancers turn men into sex objects and earn good money by making our customers slaves of desire.
2010
Won Survivor South Africa: Santa Carolina (Celebrity Survivor SA). This was a great platform to tell my story, or rather the story of my dancers. I believe that any erotic dancer has the potential to win Survivor. The erotic dancers are tough girls that work long hours, dance for an even tougher audience and many of them are single parents that dance to give their children the best in life. There are no sad stories in a strip club as the media would like the public to believe. Here time is money. Competition is always fierce among the dancers. We have many female customers that visit us and jump on stage with the girls, just to experience the feeling of power that the girls have when they are performing.
2013
Divorced Egmont Sippel.
2014
Opened Fynbos Distillery, a craft distillery, operating from the beautiful Sir Robert Stanford Estate in Stanford, a small riverside village in the Overberg in the Western Cape. Mike Crole, my partner at the Lollipop Lounge, and I fell in love with the farm and the little distil. We, along with our staff, enrolled in the master distilling courses at Distillique in Centurion. Fynbos Distillery produces Husk Spirit (Grappa), Limoncello, Witblits liqueurs, White liqueurs, Mampoer and Gin.
2018
Fynbos Distillery was relocated to our own venue called the Jolly Rooster in Stanford Industrial Area. The Jolly Rooster offers Portuguese/Mediterranean cuisine and food pairing for all the spirits produced by Fynbos Distillery. We also produced the Stanford Heritage Show. We concentrate on tourism and with the show we tell the wonderful story of Sir Robert Stanford.
2018
Married Mike Crole.
2018
Won the following accolades after entering the Vitis Vinifera Awards:
2018
Won the following accolades after entering the Spirits Trophy Awards:

Oaked Witblits: Silver Award
Oaked Apple Mampoer: Silver Award

2019
Won the following accolades after entering the SA Women's Wine and Spirit Awards:

Husk Spirit: Gold Award
Purple Haze: Gold Award
Citrus Bomb: Gold Award

2019
Today I live between Cape Town and Johannesburg. I love travelling and classical music. Mike and I run a guesthouse in Johannesburg and two guesthouses in Cape Town. I love working with the dancers and my staff at the Lollipop Lounge and find much joy in working with the crew and young people in Stanford at the distillery. I adore the community of the Overberg. I am the mother of two dog children, a pit bull named Bach and a border collie named Bardot.
From Matric to Nipple Caps & G-Strings
I matriculated from Paarl Gym and then went on to do a Bachelor of Drama at the University of Stellenbosch. I've had training in ballet, jazzart, mime and piano.
At Stellenbosch, I did the first full frontal nude scene in the production Equus. This was the first time nudity had ever been seen in Stellenbosch at the H.B. Thom.
After university I worked in several productions for CAPAB and then moved to Pretoria to work for PACT. For PACT I did high school and primary school productions, touring the Platteland from Johannesburg to Secunda, doing prescribed school works with fellow new actors.
After PACT I worked with an anti-drug group lead by Steve Hamilton, a reformed drug addict, doing a drug play at schools. We toured Durban, Cape Town and Johannesburg helping young children and teenagers to deal with a growing drug problem in our country.
Once I had fulfilled my calling here, I danced in 'Spellbound' with American magicians for Sun International.
Thereafter, I concentrated purely on dancing. I started off dancing in South West Africa at a venue called Alle Pergola. After that I was a member of a formation team doing dance shows at the old Caesars Palace in Braamfontein.
I enjoyed dancing in a team but I felt there was something more out there for me, and so I started doing erotic dance shows at clubs and venues across Johannesburg and it's surrounding areas. Executive Shows has remained my agent throughout my career as an erotic dancer.
Recently I went back to stage performing. First in 2000 with a play by Alexander Strachen entitled 'Hartebees', and this year I will be doing a play directed by Deon Opperman entitled 'W.H.O.R.E.' It's a one-woman show about a stripper with a masters degree.
I have also done a number of television ads. The latest being the S.A.A. advert where I played a confused blonde who thinks the airport is a shopping mall. You may have seen it.
I won the title 'Penthouse Pet' in 1997 and the title 'Striptease Queen' in the same year. Since then I've done plenty of glamour work and special appearances.
I also did the play "Nipplecaps and G-strings" touring the different festivals and theatres. What a privilege to work with the brilliant Deon Opperman. He wrote and directed this play. In 2005 we toured to Potchefstroom with the last of the trilogy of plays, "Academy of Love – Ladies Night". This play is exclusively for women. The play came about after I had so many women phoning me and asking to learn to lap dance for their partners.
During this time myself and my partner, Mike, opened the Lollipop Lounge in Randburg. We employ mostly South African girls. Our aim is to create a warm and friendly atmosphere, not only for our customers, but also the girls working for me.
In July 2007, I was approached by Packed House Productions to bring "Nipplecaps and G-strings" to the civic theatre. This will be the first time I'll be playing in English.
Get your tickets at Computicket.
See you there!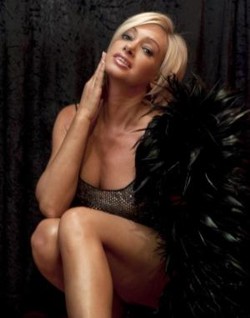 Likes & Dislikes
My Dislikes:
Hair on a man's back
Dirty fingernails
Old and new dog pooh on the lawn (I'm a cat person)
Unfairness – in any way
People that litter – in any way
Use of foul language
People that don't look me in the eyes while they're talking to me.
My Likes:
My special man
Toned , muscular legs on a man – Those of a cyclist
A soothing bath with nice rich oils especially after a Saturday night and doing 6-8 bachelor shows.
Red wine in front of a log fire in the arms of someone I love
Ice cold red-fleshed prickly pears
And that warm glowing feeling of appreciation that I get when I'm on stage